I'm "retired." By that I mean I no longer work for a paycheck. I'm 73 years old and as busy as ever serving as an associate pastor at my church, loving on five (soon to be six!) grandchildren, and continuing my writing career. My life isn't over. In fact, it feels like the best years are ahead of me.
One inspiration for me is Moses. The following is an excerpt from my book with Brother Andrew, Fearless by Faith. May it encourage you, regardless of your stage in life!
Moses is turning 80—a natural time for reflection as he assumes he is near the end of his life.
What did Moses think about as he led a flock of sheep through the wilderness? Did he recall the miracle of his birth? Did he long for the comforts of palace life? Did he regret the last 40 "wasted" years spent in the land of Midian far away from his people, powerless to do anything to alleviate their suffering?
At one time Moses was on top of the world. He had attended the most prestigious university of his day. He was wealthy and wore the best clothing. He had servants and knew all the right people. He wielded genuine power. Everything about his situation and his future was positive.
He threw it all away because he chose to identify with the persecuted rather than the persecutors. Moses saw one Hebrew being beaten, and he killed the oppressor. When Pharaoh learned of this, Moses had to run for his life. That fit of anger was why he became a refugee in Midian.
Don't minimize the bleakness of this situation. After 40 years in the wilderness, Moses may have looked back on his life and thought, What a waste! If that was what Moses thought, he was nearing the time when God could use him.
Forty years earlier, when Moses was young and strong he was eager to do something about the injustice in Egypt. Now he was just old. Eighty is a good age to retire from shepherding. Leave the work to a younger generation. Marry off the kids, enjoy the grandkids and die in your sleep.
How does God get someone's attention? A burning bush that is not consumed will certainly do the job. David writes that God "made known his ways to Moses" (Psalm 103:7). That began on the holy mountain when God introduced Himself. It was the start of a unique relationship. No one, until the disciples met Jesus, had experienced anything approaching the closeness Moses had with God. It lasted for 40 years and matured into an intimacy that was almost terrifying. Scripture says Moses met with God face-to-face "as a man speaks to his friend" (Exodus 33:11).
Do any of us really desire such closeness with God? For most people the answer probably is no! Such a relationship is frightening and costly; however, it is an adventure that no one should miss. Moses' intimacy with God may have been unique in the Old Testament, but in the New Testament, Jesus revealed that He was making it possible for everyone to know God. He took on flesh so that people could talk with Him, touch Him and learn what was on His heart.
We can have the same kind of close encounter today, and we do not need a burning bush experience.
For Reflection: How much do you really want to know God—to talk with Him, to know His heart? What frightens you about that prospect? What excites you?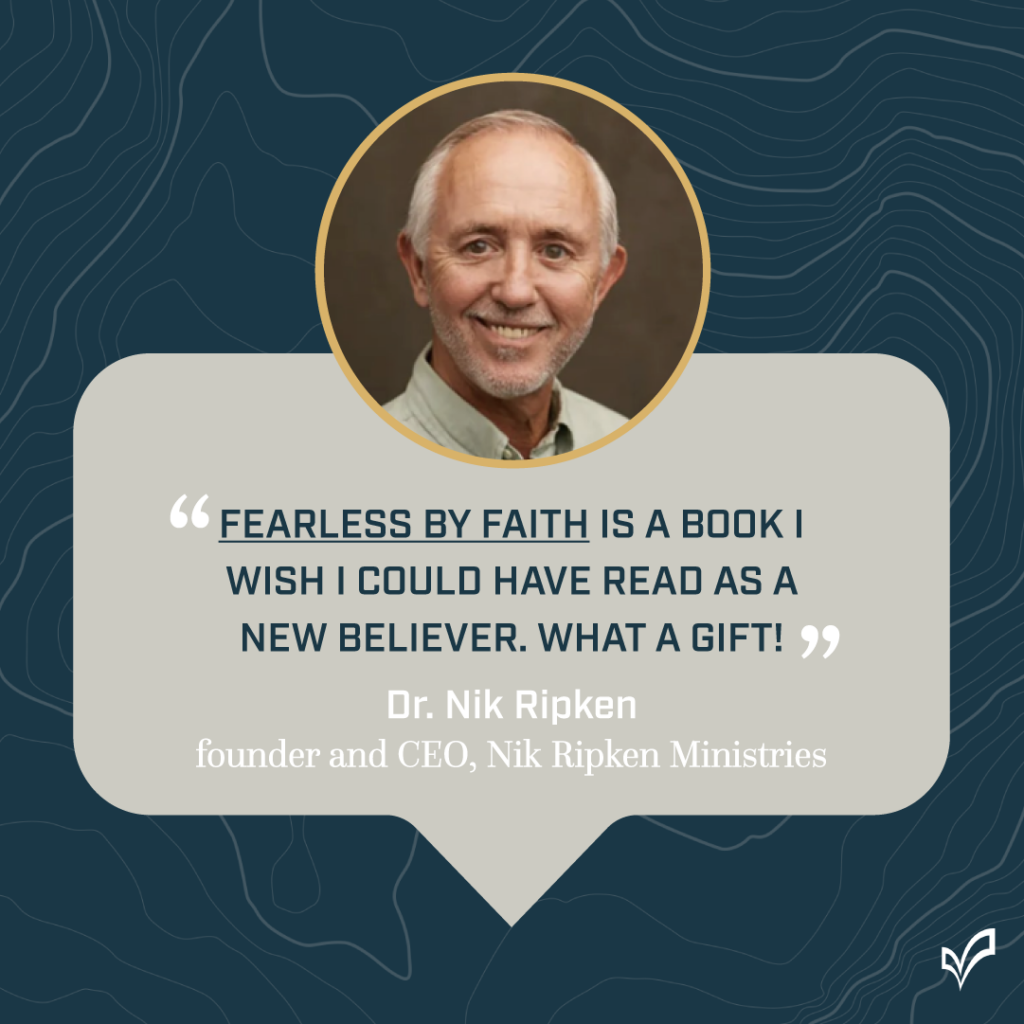 Click here for a free sample of Fearless by Faith, scheduled for release on August 1. You can order a copy here.
P.S., if you are a grandparent or your children are adults, consider getting them a copy of the book. Multiple copies can be ordered at a discount at Baker Book House.