Our new book, Fearless by Faith, will be published on August 1. Brother Andrew and I want to help people learn to listen to God for His instructions, then boldly engage in spiritual battle in whatever way He chooses to use us.
The instructors are five Old Testament warriors. Allow me to introduce them to you: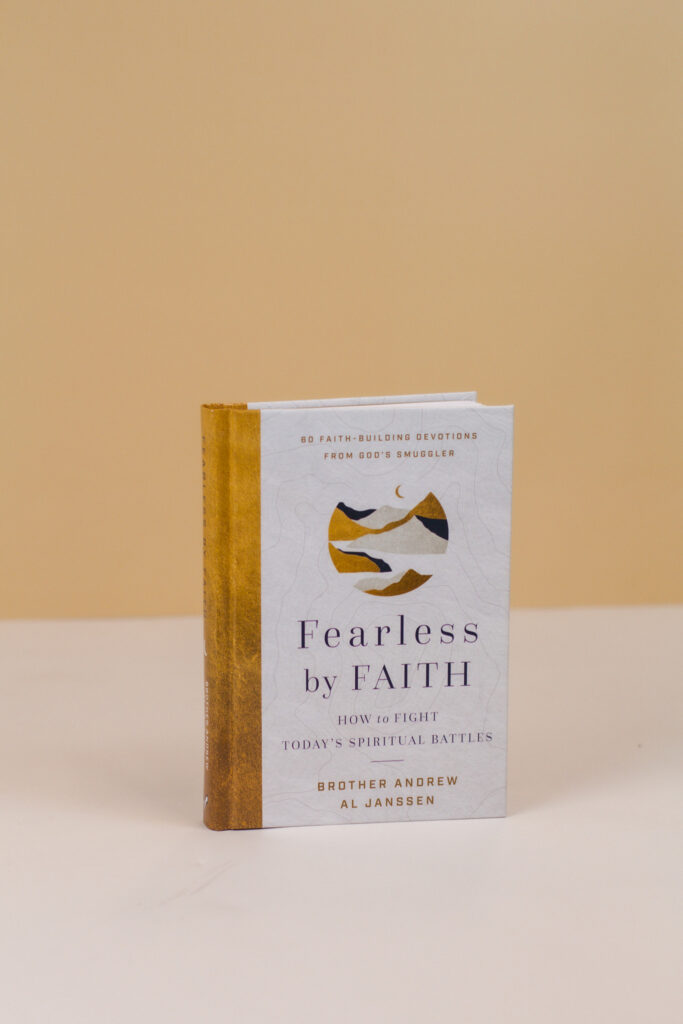 DAVID: A teenagers who confronted a giant while the rest of the country cowered in fear. We know the story. We learned it in Sunday school and enjoyed hearing it read from picture storybooks. It's the inspirational metaphor for the underdog sports team facing an undefeated opponent. It is the motivation for a startup company competing against a corporate giant.
Why revisit such a familiar drama as David and Goliath? Because when we stop and look closely, there are some things about this story that are relevant to fear and the spiritual warfare we experience today.
ELIJAH: How can we deliver the Gospel to a hostile culture and radical extremists of various stripes without giving offense? Quick answer: we can't! We live in trying times, and Christians must rise to the challenge. All of us need a large portion of Elijah in our lives. His story is extremely relevant to our present world situation.
JONAH: To understand Jonah's struggle, it might help to frame his mission in a contemporary context. "Jonah, arise and go to Mosul. Go to ISIS and preach against them, because their wickedness has come up before me."
God told Jonah to go to Nineveh, which was a city located in what today is northern Iraq, within the suburbs of Mosul. The Assyrians who lived in that great city were the most feared terrorists of that day. They hated Israel. They were making raids into the northern part of the country. Put it that way and perhaps we gain some sympathy for Jonah. We might have run away from that assignment, too.
MOSES: The circumstances were dire. Injustice was rampant. There was forced labor, unfair working conditions, police brutality, and ethnic cleansing. The people desperately needed a hero, someone who could stand up against the cruel system that had crushed the spirits of these people for hundreds of years.
The man God chose for this mission was retired. 80 years old! Ready to relax and enjoy the grandkids. Little did he know that his life was just beginning. God loves inserting people into impossible situations, regardless of their age or circumstance.
GIDEON: There is no cookie cutter recruit for God's warriors. This warrior was the least of the least. His clan was weakest in the half tribe of Manasseh, and he was the lowest in his father's household. He was a nobody. He had no standing in his community, much less his nation. Only God saw his potential.
Gideon was a very ordinary person who was called by God to do an impossible job. These five historic figures have a great deal to teach us today. No matter what your age or social standing or economic condition, God can use you to fight today's spiritual battles. You just need to be willing to listen for God's instructions. And then obey. David, Elijah, Jonah, Moses and Gideon will teach us how.
In the next couple of months before the book releases, I'll post some excerpts in this blog. You can pre-order the book from Amazon by clicking HERE.